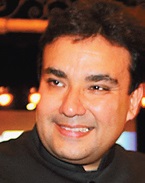 The aroma of lemongrass always makes my salivary gland very active. These days there are aromatic candles which burn in chic spas or hotel lobbies to sensualise the atmosphere, but whenever I smell lemon  grass, even while getting an aromatherapy massage done, it arouses my hunger for Thai food. The mere  smell of lemon grass takes me on a Thai high.
I have always loved Thai food for its simplicity, flavours and lightness. Balance, detail and variety is most important for Thai chefs. Thai cooking emphasises on lightly prepared dishes with strong flavours with a spicy edge. This cuisine is known for its complex recipes that have at least three—or even sometimes five— major taste senses in each dish or in the overall meal experience. A Thai meal may look simple but it's a complex technique of juggling diverse ingredients to create a harmonious dish.
In Thailand rice is the staple ingredient, so most dishes are eaten with rice. Thai chefs excel in food presentations adorned with intricate carvings on fruits and vegetables, making it truly royal.
Like every Indian household that boasts of its special channa or kali dal recipe to be the most exclusive, every Thai household boasts of its special Thai curry. No doubt the basic ingredients may be similar, but it is the interplay with flavours, vegetables and meats that make it different and special for each household in Thailand. I came across this special Thai curry recipe while I was visiting Bangkok a few years ago. Whenever I make the preparation, it wins a lot of praise.
The trick is simple, you make your own paste with fresh ingredients, which does the magic. These days one can find many varieties of Thai curry paste in the super markets.These contain fish oil which some may not like, so I advise making your own paste depending upon the colour of the recipe you may chose to make. For the red curry you my use fresh large red chillies and for green curry, use the green ones.
The paste then could be kept in the fridge and used whenever you want to eat Thai curry or itcan even be used as a marinade for chicken, fish or paneer.
So lets go for the special Thai curry recipe love the red one so we will choose to make with fresh big red chillies.
THAI CURRY
INGREDIENTS
INSTRUCTIONS
In a blender mix all the ingredients of the Thai paste and remove.
Heat oil in a wok and the thai paste mix.
Sauté for about 4-5 minutes till oil leaves side.
Add in the vegetables and/or meat and sauté for few minutes.
Add water with few kafir lime leaves and pieces of lemon grass stalk and let it simmer on low heat for 6-8 minutes covered with lid.
Remove the lid and gently add coconut milk ensuring it doesn't separate.
Stir for some time.
Remove and serve warm with rice.