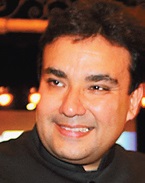 My family hailed from Peshawar and migrated to Delhi in the wake of the Partition in 1947. I have grown up hearing stories from my great-grandmother, grandparents and parents about the perils of Partition. Separated from their home and loved ones, leaving behind their belongings and friends, they brought with them only some bitter-sweet memories. I recall my grandparents telling me about the life style, socialising habits, their house and the Moti Mahal restaurant which they left behind during that time.
I was always interested to know about the restaurant and traditional Pishori recipes from my grandfather Kundan Lal Gujral who was a well-established chef and a popular restaurateur of that time in Peshawar.
He had earned his laurels by converting a dhaba called 'mukhe da dhaba' to Moti Mahal (palace of pearls), which was a humble shop at the corner of a popular market called Gora Bazaar. Here he invented the legendary tandoori chicken and, of course, the much-fabled butter chicken.
One great result of the Internet and social media is that it provides a platform for people with common passions and interests across the globe to share their experiences. Recently, I was added to a popular social group named 'Pishoris'. Besides the local recipes and cuisine popular in Peshawar these days, through the group I got to know some great and intriguing information and saw pictures of the present-day location of the then Moti Mahal which is now a tailor shop in Gora Bazaar.
In this week's column, I am going to share a few interesting food facts about Peshawar and, of course , the recipe of Chapli kebab, which was a special one in our household.
My friend Dr Ali Jan shares that dal ghosht (with desi ghee) served with soft white rice, Katlamey chhole and paya (hoofs and trotter curry), kalla/painda in siri shorba (soup), sweetened haleem served with rogni nan and accompanied with a fried egg, dozens of dishes with varieties of spinach are still popular in Peshawari kitchens.
Dum pukht lamb cooked with rice over tandoor and, of course, the ever popular lamb seekh, karahi tikka and cho0nga kachnaar are some of the most sought-after dishes. I remember my great grandmother, who lived a little over hundred years, used to make 'Burani', which is a dish made of fried eggplants served in salted yoghurt with a dash of garlic and appropriate seasoning.
Mutton or lamb, from a humble rogan josh to intricate haleem, has always been a hot favourite of the north-west frontier. And not to forget the famous Peshawari falooda as an evergreen dessert.