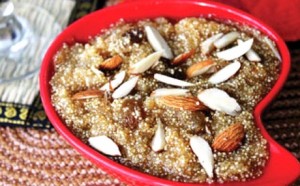 The winters in Delhi are setting in early this year. Though, it's cold and foggy in the mornings and evenings, but still a little warm in the afternoons. You want to put away the summer clothes but winter clothes are yet too warm.
I am not complaining, as I love Delhi winter and long for crisp yet sunny Sunday afternoons, when I sit in my terrace garden enjoying French red wine or Pimms with fresh garden salad or nuts only to follow with some warm and savory dish.
It could be hot radish paratha oozing with fresh home made white butter, grand ma's mango pickle and salted lassi. Desserts could be either jaggery halwa, warm crisp jalebis, fresh home made warm feta cheese and caramelised onion tart, or even a warm and tangy goat cheese tart with nuts to end with fresh strawberry cream.
Gosh! I am really confused, may be it reflects this transition in season with bit of this and a bit of that. But don't worry in today's column, owing to my confused state of mind as what to eat I am going to share two recipes one for my desi taste friends and the other for my 'English Vinglish' friends.
JAGGERY HALWA (GUR KA LAL HALWA)
YIELD: 1 bowl (2-3 Servings)
PREP: 10 mins
COOK: 15 mins
READY IN: 25 mins
INGREDIENTS
INSTRUCTIONS
In a pan mix sugar, cardamom powder, red colour, raisins and water till sugar dissolves completely. Keep aside.
In a heavy bottom pan, put the flour and stir till golden brown on medium heat. Remove the flour, add clarified butter, heat it, then add the wheat flour, string continuously for 3-4 minutes.
Pour the water mixture gradually and stir for 3-4 minutes or till oil leaves side. Put the halwa in the service dish, garmish with almonds and put silver leaf foil. Serve hot.