ZAFRANI BIRIYANI
YIELD: 2-3 persons (3 Servings)
PREP: 20 mins
COOK: 30 mins
READY IN: 50 mins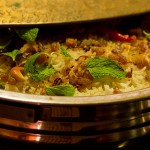 INGREDIENTS
INSTRUCTIONS
Clean , skin and cut chicken in to 8 pieces.
Wash the rice and soak for atleast 30 minutes.
Whisk the yoghurt in a bowl and divide into 2 equal portions. Dissolve the saffron in warm milk and cream.Add 1 portion of yoghurt to it. Add the mint and green coriander to this.
Pre-heat oven to 150 Deg C.
In a sauce pan , boil 4 ltr water and add a bay ;eaf , 2 green caramoms and 2 cloves . Add the rice and salt to taste. Boil for a few minutes until the rice is half cooked .Drain the rice with the whole spices and keep hot.
Heat the butter in a pan , add the remaining whole spices and caraway seeds and sauté over medium heat . Add the onions and sauté till golden brown . Add ginger and garlic pastes and red chilli powder and stir for 15 seconds.
Add chicken and salt and cook for 5 minutes.
Add the second portion of plain yoghurt along with approximately 200 ml water ; stir and bring to a boil .Lower the heat and simmer until the chicken is almost done.
Stir in lemon juice and check the seasoning.
Grease the baking dish .Spread half of the chicken mixture , sprinkle half of the saffron/ yoghurt/ coriander mixture over this .Now spread half the parboiled rice .Repeat the process for the remaining half.Cover with a moist cloth and seal with dough.
Slow bake in oven for 10 – 12 minutes. Remove and serve hot , garnished with fried almonds.